What is a Peplum style?
A peplum is a gathered strip of fabric at the waist of a top or dress, which forms a freestanding flounce over the hips. It could be very dramatic giving volume around the waist, or it can be very soft and subtle like a ruffle. Peplum style dresses or tops are very flattering as they highlight all the best features of your body. The key feature is the ruffle at the waist. It hides those flabby bits and at the same time make the waist look so tiny and we love that. It is so popular that this peplum style has been incorporated even in coats and skirts making and the trend keeps going on strongly. If it is worn with a pencil style skirt, it gives you that curvy hourglass shape look every girl desires. Even dresses have peplum bottoms giving you the trumpet style. We have jackets and basic blazers in that style. They are cute and silhouette enhancing.
Is peplum Still in Style in 2022?
Oh yes, we will definitely be seeing elegant dresses to casual outfits adopting this style. From jackets to dresses, we now have pants that joined in and are still going to be seen around for a while. A basic blazer or bomber jacket has always been a wardrobe staple but adding a bit of flair with a ruffle is sure a step up from anything ordinary.
Where to wear it?
From casual to chic and red-carpet evening wears, peplum style has found its way everywhere.  With time, the ruffle has evolved into layered, one side, high and low, only on one side. It is such a verstile feature which can be played in so many different ways. Add any shoulder or neckline style to it, yoou can't go wrong with it as in the images below. For day time casual chic, you can wear it on jeans and shorts or simple skirts: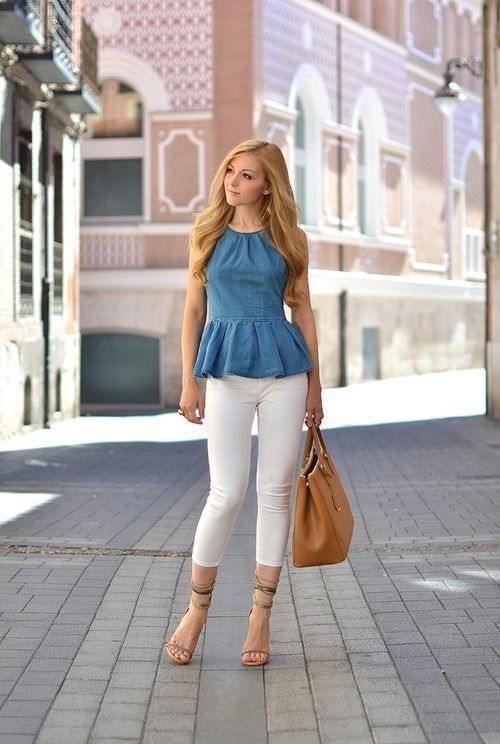 For glamorous looks choose one of these kind of gowns. They are unlimited in terms of fashion styles you could try and experiment. You will be amazed to see how your figure gets better with them on you. Plus if you need to fo to a party where you want to eat care free, then they do a good job hiding your tummy!
Black is a powerful and sophisticated colour, combined with a peplum style, it makes the outfit exceptionally good for any special event. Black dresses are very forgiving when it comes to hiding embarrassing bits and enhancing your lovely body features. It is easy and first choice when you are in doubt and don't know what to wear at a party. Just grab it and go as you can never go wrong with a black dress. The little black dress is one piece of dress that every single girl should possess. MauriBella's collection has one peplum black dress with an amazing front crystal embellishment in a deep V shape. It has cap sleeves in satin fabric which is an in between option in case you don't like sleeveless and short sleeves outfits. They enhances your arms and are very flattering for women with broad shoulders.  Cap sleeves balance the attention from the hips to the shoulders.
Our black peplum dress is not only sexy and stylish but also elegant and luxurious.
If you like to be modern and stylish with an element of sexy, then go for this dress. It will also give you elegance and grace. MauriBella is one of the most luxurious brand on the island and we are sure you will love our black peplum dress. You can easily make it shorter if you prefer.
Combine with these sensational heels, you are sure to turn heads.